How far along?: 15 weeks
Sleep?: I am sleeping great. I haven't been taking naps anymore so I really think that helps me be able to go to sleep and stay asleep. That, and my exercise. I swear my body would go nuts if I couldn't exercise. I sleep better, eat healthier, and have more energy when I'm regularly exercising. Why wouldn't you want to exercise?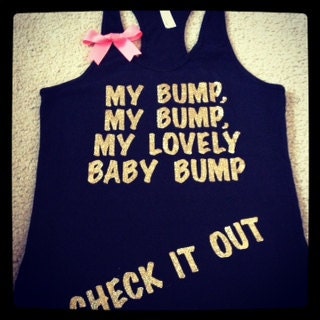 \
Anyone who buys me
this
will instantly be my BFF. It's from Ruffles with Love. I'm an XL. :D
Maternity Clothes?: This week I am officially in maternity shorts. I am so thankful for my mom who took me on a shopping trip and got me 3 maternity shorts and 2 shirts. I haven't bought new clothes in over a year... this is a big deal! :) Plus maternity clothes rock... elastic waste... why can't we all wear that year round?
Best moment this week?: Still randomly feeling baby flutters which is an amazing feeling but they are very spaced out and I am selfish and want more!! I would say shopping was my best moment this week and making homemade pickles with my mom! Oh and Jonathan saying "Look at that little baby!" (talking about my belly... I love how excited he is)
Miss anything?: Not having to tuck a pillow under my belly every time I turn over & sleeping on my back.
Movement?: Random flutters, usually when I first lay down at night. Usually only happens once and doesn't happen every night but I can't wait to feel real kicks through my belly!
Size of the baby?: Avocado (yuck). Around 5 inches and 5 oz.
Food Cravings?: I am craving fruit. Any and all kinds and I can't WAIT to eat my homemade pickles but I have to wait till next Saturday. I have been craving spicy things lately. Can't get enough. Food aversions is PIZZA. Which I normally love. So it's freaking Jonathan out that when he asked me if I wanted to order a pizza on Friday and I said "NO WAY."
Morning Sickness?: None unless I go a long time without eating.
Gender?: Well, last week I lost my keys so I had to cancel my appointment because Jonathan couldn't get off work to take me so I had to push my appt to tomorrow so it will be 4 weeks from then. So I'll find out around 19 weeks. I am so anxious and excited.
Bed Rest?: None
Limitations?: None
Labor Signs?: None
Pregnancy Symptoms?: Light acne & oily face (yuck).
Wedding Rings?: Still on. I don't think I'll have to take them off. They were really lose when I first got pregnant so I have plenty of room to "grow."
Looking forward to?: Hearing the baby's heartbeat tomorrow and finding out the gender in 4 weeks!