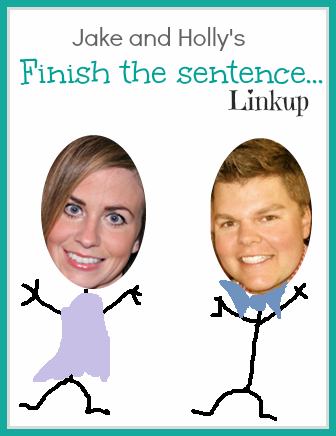 I'm linking-up with Holly and Jake. I haven't had the chance to stalk Jake yet... But don't worry. I have a baby-free day full of no plans except sitting on my butt and trying not to move so that my back doesn't hurt. Sounds fun, no? NO. I am bored out of my mind and I want to go run.
People always tell me "you're really tall." Yeah. No crap. I'm 6'1. And I've been this tall since about 8th grade.
In the movie based on my life, I wouldn't go watch it. I have the most perfect, boring life that is mostly drama free. It would have been more interesting in my college-days but I can't remember those days.
Typically, I end up regretting eating half a pizza. Or sitting at home on a pretty day.
I always ask to leave off the tomatoes. Those things are disgusting Except petite-diced ones.
Kim and Kanye really need
to
keep on keeping on. I love them and their crazy life.
My parents always remind me that I'm not getting any younger and they want more grand-kids.
Every single day I drink coffee twice a day. Once when I first wake up and another at 2.
This one time in college I was a beer pong champion. I played.. A LOT. Oh and I passed out on a curb in the parking lot. Keep it classy, always.
My grossest habit biting my cuticles.
My latest white lie was "I'm okay"
I know all the words to I like big butts and I cannot lie.
When I grow up I want to be an owner of a bakery.
Sexy time is better the healthier we get.
I will never, ever be someone who gets their hair cut or "done" every 6 weeks. Or floss every day. Leave me alone.
I think it's hilarious whenever Jennifer Lawrence has a profession interview. I love how normal she is.