Today I'm linking up with my BFF who doesn't know she's my BFF, Holly and the hilarious, Jake and the never-land pirates.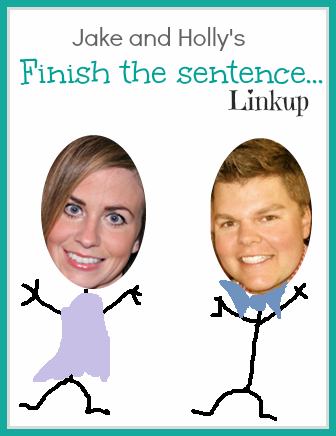 1. If Calories didn't count, I would eat... Cheesecake, steak with butter, and lots and lots of beer.
I was a bit intoxicated. Can you tell? Also, this wasn't my date. I was so mean to my date and hardly took any pictures with him. Truth be told, I didn't want to go with that particular boy but he had literally asked me to every dance since we had been in school together and my mom made me go with him. I really hope he isn't reading this. :/.
3. When I go to the store, I always buy... milk, eggs, and banana's. We go through these like they are going out of style. Hazel loves banana's and will eat the whole bunch in one day if I would let her.
4. Family functions typically... are really fun. I have 2 brothers and a sister. 1 brother and my sister are married and my sister has 2 kids. So it's loud and fun! I love my family. Jonathan's family lives farther away but we love going there. They are loud and amazing cooks. We always leave there fat and happy.
Holy chubby face, KellyAnne.
5. I think my blog readers... are my best friends! Honestly, ya'll know me better than most of my friends. I don't usually go around spilling all my thoughts and feelings every day. Ya'll know my struggles, failures, and victories. I love the friendships I have formed through this. And I can't wait to meet some of you in person! Hopefully one day!
6. I'd much rather be... on the beach with a drink in my hand. I need a vacation like woah and the beach and warm weather is what my soul needs. I can't wait to go to the beach this year with Hazel. She loved it last year and I know this year will be even more fun.
7. I have an obsession with... cleaning my toilets, making my bed, instagram, and my new thing is the elliptical!
8. My work friends... don't exist. Womp. Womp.
9. When I created a Facebook account... it was back when you had to have a college email address to create an account so I remember the summer after I graduated high school I thought I was the shit because I "got to" make an account. It was only for the cool kids.
10. My least favorite word is... creamy. VOM.
11. I don't really remember... my first summer and semester of college. It was fun.
No one knows who that guy is.
12. Justin Bieber... is a baby. But boy can sing my pants off when he sings "boyfriend"... for some reason that makes me all teeny-bopper crazy. I'm just reliving my backstreet boy days.