Today I'm linking up with Erin and Alex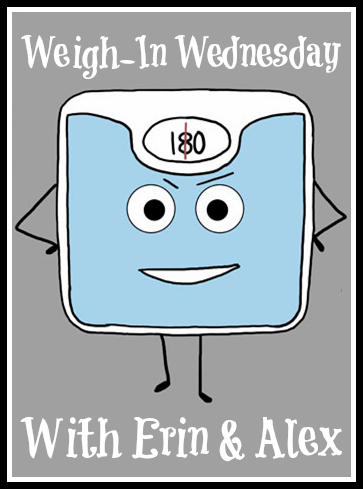 Wooooo! Finally over the dreaded week 2
any biggest loser fans out there?
Well this past week other than Saturday and Sunday I did really well.
Saturday: Sat on my fat butt
Sunday: Sat on my fat butt some more
Monday: 25 minutes on the stair master and Body Pump
Wednesday: Body Pump immediately followed by RPM
I did pretty well eating wise. I could have done better but I am pretty happy.
I have added a ton more fruits and veggies to my diet and eliminated red meats for the time being.
My energy level is through the roof and I feel simply amazing.
Now to what you've all been waiting for!
Starting Weight: January 2, 2013: 230.4
Last week: January 16, 2013: 226.4
Today: January 23, 2013: 223.0
That's a loss of 3.4 pounds this week! And a total loss of 7.4 in 3 weeks. Despite my eating really terrible last weekend. I promise this weekend will be better!
I am so happy for another big loss this week after a .4 gain last week!!
I am really hoping to be in the 210's next week! I haven't seen 219 or less in about 2 years so that would be a wonderful feeling! I plan on kicking butt this week!
Last week:
This week:
Loss of 2.5 inches this week!! After last week I wasn't expecting a huge loss of inches because last week I lost about 9 inches! As long as my thighs keep shrinking I will be a happy camper! Thanks to Body Pump :)
How did you do this week??
Can we also all just agree that men are big jerks? Jonathan started this weight loss journey with me on January 2 and he has lost 11 pounds. I am so so proud of him but damnit. I want to lose 11 pounds in 3 weeks! I guess 7.4 pounds is great too! As long as my scale keeps going down I will be a happy camper!
Disclaimer: I am only joking. I am super proud of my husband! He is kicking butt in the eating and working out departments and I am SO happy he is doing this with me. I just want to lose more weight than him dang it!! ;)