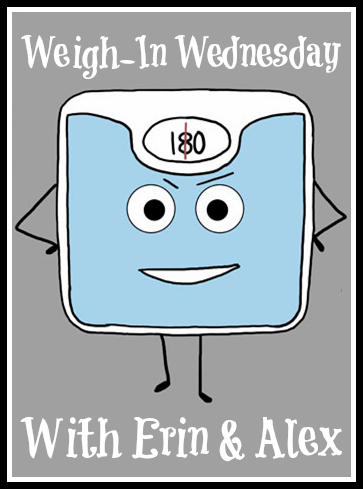 Hey ladies!! I hope your week went well!
I had a great week this week. I stuck with my workouts and eating well and never went over in my calories. I FEEL good about myself!
Downside is that it's the dreaded Shark Week. Therefore my hormones are all outta whack but I still lost 1.6 pounds this week! WHAT???
The real victory is that I haven't spent the past week shoving my face like I normally do the week before TOM. I had SELF-CONTROL for once in my life and I didn't gain. THAT IS HUGE FOR ME. Like I have said before this isn't my first go-round with this weight-loss thing. But I always , and I mean always have shoved my face the week before my TOM and gained. Every single time. Then the week after I would spend losing the weight I had gained. So the fact that I lost weight this week sends me over the moon. I couldn't be more happy.
That's a total loss of 9 pounds this month!
Another non-scale victory is I didn't spend my week shoving my face with pizza. Like last weekend.
We did have Panda Express one day for lunch but instead of rice I got steamed veggies. Small changes. Slow and steady.
I can't give up everything I love! I love food! I love to go out to eat! But making small changes will lead to big changes! :)
Last week:
Arms: 13
Thighs: 23
Bust: 37
Hips: 37.5
Waist: 32
This week:
Arms: 13 (no big changes but I can actually SEE my muscles... big deal for me!)
Thighs: 22.5 (-.5)
Bust: 37 (-0)
Hips: 37 (-.5)
Waist: 31 (-1)
That's a total of 2 inches this week
Total loss of inches for the month of January:
Arms: -2 inches
Thighs: -4 inches (yeah buddy)
Bust: -3 inches
Hips: -4 inches
Waist: -3 inches
Total: 16 inches OFF my body! Yay!
My workouts this week:
Wednesday: Body Pump followed by RPM (Kicked my butt so good and I just upped my weights)
Monday:Hot Yoga and Body Pump
See a pattern? I might be obsessed with Body Pump and RPM. But I burn so many calories and get a sweaty mess. I love it. I want to start adding a step-class too but I don't know. I'll probably wait until I get over these 2 classes. Right now they are working and kicking my bootay!
Now for 1 month progress pics!
The green is before and blue is 1 month
I can't really see much of a difference. I'm going to start taking pictures of my back/ flexing my arms so I can see the differences in the muscles.
This made me LOL.
Be my friend on Facebook! KellyAnne Scott is my name :)
Instagram: Kscott24
MFP: Kscott24
Twitter: kellyanne_scott
Can I get an AMEN?
This makes me LOL and totally what I wanted to do this week. Yummm brownies!!