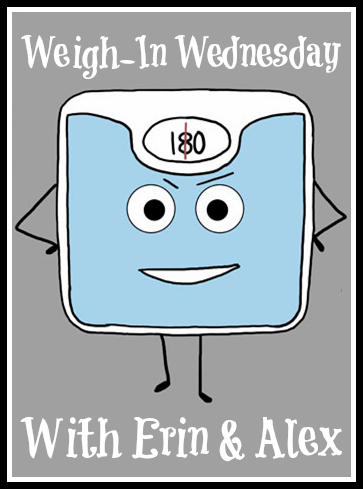 First of all I can't believe it's already week 5! I feel like this is flying by!
I have so much more energy today then I did 5 weeks ago. I am sleeping so much better and when Hazel wakes up I am not MISERABLE when I wake up. I actually just get up and start my day instead of laying there dozing in and out. It's awesome to go to sleep and wake up energized. Something that wasn't happening 5 weeks ago.
Starting Weight: 230.4
Last week: 221.4
Today: 217.6
I am down 3.8 this week.
With a total of 13 pounds in 5 weeks.
Only 17.6 more pounds till my goal weight! Almost half-way there!!
I am ecstatic. I am so proud of myself. I have logged and completed my calories on MFP. The good, the bad, and the ugly. I have been busting my butt at the gym 6 days a week and some of those days I go twice. I am not doing this the easy way. I am eating healthy and working my butt off the good old fashion way. And guess what? It's working!
Gym this week:
(You'll see a pattern) haha!
Wednesday: Hot Yoga and then 25 minutes on the stair master
Thursday: RPM
Friday: Body Pump followed by CX Worx (it's an ab class)
Saturday: Tried to go to RPM but it was full so we did other things... rowing, Jacob's ladder, treadmill, and some ab work--- then we went to Body Flow. Not my favorite class. It combines yoga, ti chi, and Pilates... I love a good yoga and hot yoga but this just wasn't my cup of tea.
Sunday: Rest
Monday: I did Body Step that morning then Body Pump at night.
I love, love, loved Body Step... if you're looking for a good cardio class then try a Step class at your gym! Kicked my butt! Can't wait for next week. My legs are STILL sore from it!
Tuesday: RPM
Today I'm going to do hot yoga and stair master again. My legs need to be stretched out!!
I am on of the girls who has tried EVERY "diet trick" in the book. Guess what? THEY DON'T WORK. In order to lose weight (and keep it off) you have to EAT! Don't starve yourself. I eat between 1700-2000 calories a day. (Depending on how many calories I burned that day.) I am rarely hungry. When I am... I EAT. The difference is I pick healthy choices. I pick fruits and veggies instead of chips and crackers.
I am proud.
Since starting this on January 2, 2013 I have lost 13 pounds.
Measurements:
Last week:
Arms: 13
Thighs: 22.5
Bust: 37
Hips: 37
Waist: 31
This week:
Arms: 13
Thighs: 22 (-.5)
Bust: 37.5 (+.5)
Hips: 37
Waist: 31
Well my negative from my thighs cancels the plus for my bust!
So no changes really...
But I feel tighter. I feel more toned. And I am rocking my clothes.