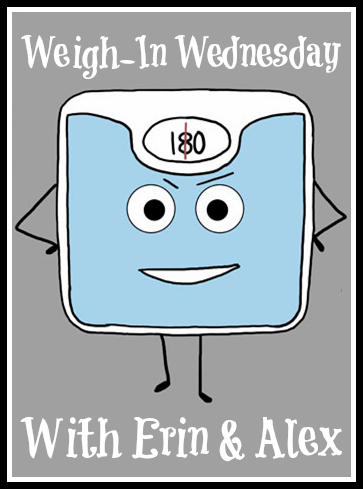 Hey ladies!
I'm here to weigh in again! I really wasn't expecting a big loss this week. I had a huge week last week of a loss of 3.8 pounds. That's almost 4 pounds in 1 week. So I wasn't surprised when I stepped on the scale this morning and it read 217.
I am 6'1"
Starting weight: 230.4
Last week: 217.6
Today: 217
So I am down 0.6. Almost a whole pound. I will take it. I wasn't expecting the scale to move at all since coming off such a huge week last week. I watch Biggest Loser. I know that the scale is finicky.
But I feel GREAT about myself. I feel smaller. People who don't know I'm trying to lose weight are noticing a difference. I've had 2 instructors and a girl in a class saying how great I look! Sometimes those compliments are the better than the scale going down. Knowing that strangers who don't know about my journey can tell a difference is a big deal. My clothes are getting to be too big. Where am I going to get the money to buy a whole new wardrobe? I am feeling great in my clothes.
I feel pretty.
For the first time in a long time I actually asked Jonathan to take a picture of Hazel and I because I want to remember how I feel. Sure I'll probably look back at those pictures 17 pounds from now and say "wow I was a cow" but right now I feel great. I am down 13.6 pounds in 6 weeks. I am proud.
Measurements:
Last week:
Arms: 13
Thighs: 22
Bust: 37
Hips: 37
Waist: 31
This week:
Arms: 13
Thighs: 21 (-1)
Bust: 37
Hips: 37
Waist: 31
I only lost in my thighs. But honestly that's my biggest body part so I am proud that they are going down! I know that I actually have bicep muscles now. I can see my calf and thigh muscles. My stomach is shrinking and my neck isn't so double anymore.
Even though I didn't have a huge loss this week... it was still a loss. A step closer in the right direction. I know that I made good choices this week and I met all my exercise goals.
Here's what I did:
Wednesday: Yoga and 25 minutes on the Stair-master at level 7.
Thursday: RPM
Friday: Body Pump and CX Worx
Saturday: 4.4 mile hike
Sunday: Nothing
Monday: Body Step and Body Pump
Tuesday: RPM
I'm ready to kick butt this week!
I also need to brag on my husband! He has been on the healthy train with me since January 2 and he has lost almost 20 pounds! He was down 4 pounds this week. damn him. He is such a great motivator! I am so proud of him!!