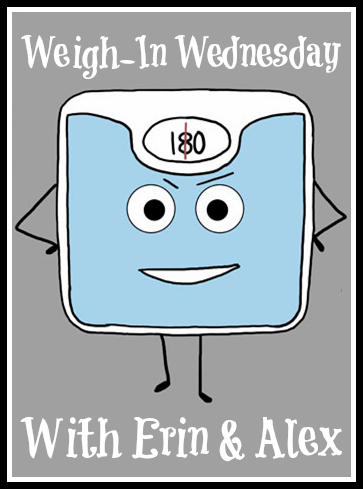 When I got on the scale this morning I wasn't expecting much. I know what I ate this past weekend and it was pretty. I did really well for breakfast and lunch the whole weekend and then dinner came around and life happened.
Friday was my planned cheat meal. I'm not feeling guilty about that bacon cheeseburger. It was delicious. I savored it. It totally hit the spot.
Saturday we were meeting the family at Taco Mac before the Monster Truck Jam and traffic happened. We ended up sitting in the car for over 2 overs to not even move 5 miles. So we had to eat in the Georgia Dome. Dome food is never healthy. I chose between a personal pan pizza over a basket of fried chicken fingers and fries. The 700 calorie pizza was better than the 1,500+ chicken finger basket BUT it was still way too much. Not to mention I followed the pizza with popcorn and a little cotton candy. Fail.
Then Sunday life happened again. I did really well breakfast and lunch again but on every other Sunday we have to be at church by 5 to volunteer. Sometimes they have healthy options. Not this week. It was pizza. My weakness. So I have 2 pieces and then finished half of Hazel's piece. Why did my mom have to ingrain in my head that there are starving kids in Africa?
But since Monday (yes... a whole 2 days) I have done really well. I've been making good decisions and exercising.
Starting Weight (1.2.2013): 230.4
I am happy with that .8 loss. That is almost a whole pound. I was honestly expecting a gain so I'm really thrilled with that.
Jonathan and I had a pep talk and decided that we both need to buckle down on the weekends. We want this to be a lifestyle change. Not a quick fix. We both decided that we still need the cheat meal once a week. I need something to look forward to. But other than that we need to make better decisions on the weekend. We are both half way through our goals. When I started this I wanted to lose 30 pounds and get to 200. Jonathan wants to lose 50 pounds and get to 225. He has lost about 24 pounds and I have lost 14.2.
This next week I'm ready for another big loss. I know these last 16 pounds won't come off without a fight but I'm ready to get in the ring.
I also decided I'm going to lower my calories from 1700 to 1500-1600. I am really against being hungry. So I'm going to try it this week but if I get hungry I'm going to eat. I won't feel guilty about filling my belly with healthy foods. That is the key.
Plus I turn into a monster when I'm hungry.
I also decided I'm only going to do my measurements every 10 pounds loss instead of every week. I don't want to get discouraged and I know my inches will come off slowly.
Here's what I did this past week:
Wednesday: Yoga and Body Pump
Thursday: nothing. Hazel was really sick and it was too cold to run outside.
Saturday: 5 miles (with sprinting intervals) and 10 minutes on the stair master
Monday: Body Step and Body Pump.
NSV: I didn't feel like puking after Body Step so that's progress!
Tuesday: RPM and I kicked my own butt. I did feel like puking.
Today I'm going to yoga and then I'm going to beat Lora's butt and see how fast I can go up 50 flights of stairs on the stair master.
If you don't follow me then do so:
I want to leave ya'll with something pretty amazing. Jonathan found these pictures last night. These were my original "before" pictures.
Nope, I wasn't pregnant.